Daniel K. Akaka State Veterans Home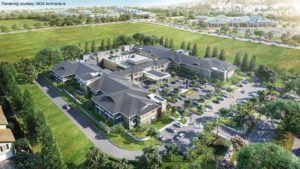 Nan, Inc. is building the $75.5M Daniel K. Akaka State Veterans Home on a seven-acre parcel of land in Kapolei, Oahu. The project involves the construction of two residential buildings, each two stories high, along with a skilled nursing facility/community building also two stories high. The facility will also incorporate sustainable and energy-efficient technologies including: roof overhangs, sunshades, special glazing to reduce solar heat gain, energy efficient air conditioning system, LED lights, occupancy sensors, reclaimed non-potable recycled irrigation water, and native, drought-tolerant plants.
This facility will provide 120 long-term care beds for Hawaii's veterans and it will also offer will offer geriatric mental health/dementia/Alzheimer's care, rehabilitation therapies, hospice, respite, and adult daycare. This Kapolei facility will target both long-term and short-term stay Veteran populations, eligible spouses, and Gold Star parents. Construction began in April 2021. A groundbreaking and blessing ceremony took place on Memorial Day, May 31st, 2021. The project is expected to take two years to complete.