'Alohilani Resort, Waikiki, Oahu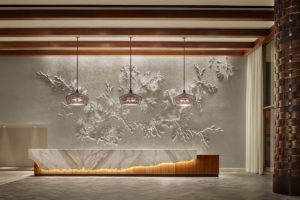 The 'Alohilani Resort on world famous Kalakaua Avenue in Waikiki is undergoing a major transformation, and Nan, Inc. is playing a leading role.  Our crews have completed the renovation of 839 existing guestrooms and 48 hotel corridors. The hotel stayed open during the renovation which included new paint, flooring, vanities, plumbing and lighting trim. Oahu native Leonard "Aina" Kuhia was part of the remodeling team and says, "budget, schedule and quality were our top priorities."
In another project awarded to Nan, Inc., crews are tackling the demolition and construction of the Hotel's temporary hotel registration area. The work involves creating new space for the Front Desk, the Bell Desk, the Baggage area and Exterior Registration space. Facilities are also being constructed to temporarily house Dollar Rent-a-Car, Expedia, JAL and BOH. Nan, is also installing new air conditioning systems for the Beach Tower elevator room, the Ocean Tower elevator rooms, and the Parking Garage elevator room.
The transformation of this iconic property also includes big changes for the hotel's amenities. In a third project, Nan, Inc. is in charge of makeovers to a pair of restaurants, including the famous Oceanarium Restaurant. Our crews are also rebuilding the lobby, resort pools, keiki club, the pool bar and grill, and the corridors to the lobby. Nan, Inc. is also building a new retail area.  Collectively, the Phase III renovation project covers nearly 60,000 square feet.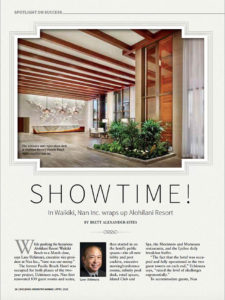 Featured article from  Building Industry Magazine.
Download Article