Waikoloa Elementary and Middle School Classroom & Annex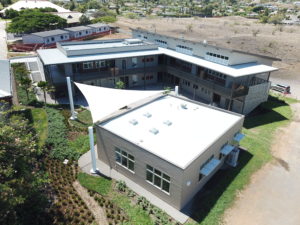 Nan, Inc. successfully constructed two new buildings on the existing Waikoloa Elementary & Middle School campus. The $14M project for the Hawaii Department of Education involved constructing the new two-story Building J classroom building and a single-story (Annex) consisting of support and administrative spaces.
The new Building J includes classroom spaces, a dedicated special education classroom, science laboratories, and art studios.  The one-story Annex provides Teachers and Administrators with office space, counseling spaces, conference rooms, and faculty workrooms.  Overall, the new educational facility covers approximately 9,135 square feet on the southwest corner of the campus.