Hoopili Off-Site Potable Water System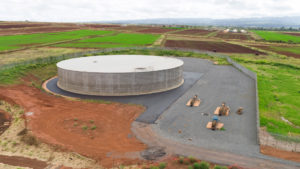 Nan, Inc.'s $26M Hoopili Off-Site Potable Water System project has helped deliver a reliable source of water to the massive new Hoopili subdivision in East Kapolei. The Nan, Inc. Civil Team constructed a 2.5 million-gallon water tank and booster pump station in the Kunia hills.
Water from wells there is delivered through a new nearly two-mile-long pipe system that runs under the H-1 freeway and across Farrington highway. The system constructed by Nan, Inc. connects with Hoopili's infrastructure, delivering water to a large portion of the more than 10,000 new homes being built there.