Kona International Airport Terminal Modernization Program Phase 1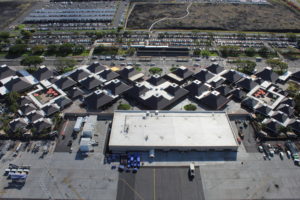 Phase 1 of the Terminal Modernization Program at KOA, which is a $78 million project, was awarded in 2017 and was completed in 2020. Part of the scope included the demolition of the existing structures, but the project's main emphasis was to provide a new baggage handling system. A new tunnel that leads from check-in to the baggage makeup building with integral TSA baggage screening, a central security checkpoint, two bag drops on the North and South sides with USDA agricultural screening, new concessions, and new restrooms, are all included in this contract.
The upgrades now allow for a central checkpoint that combines the two separate terminals into one large main terminal. Prior to this project, each airline was responsible for its own baggage handling system. Upon completion, every airline operates under one unified system, which helps the airlines get luggage on the planes more quickly and efficiently. Besides the new baggage handling system, the scope of work included lighting, CCTV, a public address system, and other site work.