OVERVIEW
This project will, in short, double the size of Farrington Highway located in Ewa Beach, Hawaii between Kapolei Golf Course Road and Old Fort Weaver Road. The approximately 3-mile project will provide new roadways, new bridges and new utilities for future construction. The scope of work includes: construction of drainage structures and culverts, asphalt and concrete pavements, concrete curbs & gutters, sidewalks, gas lines, water & sewer lines, street lighting, traffic signals and landscaping. Also included is relocation of water mains, relocation of overhead and underground electrical and telecommunications infrastructures, reconstruction of the Kaloi Stream Bridge and Honouliuli Stream Bridge, demolition and removal of structures, clearing, grading and pavement markings & signage.
UPDATES
Updates will be provided as start of physical work approaches. Physical work is expected to begin in May 2024.
LOCATION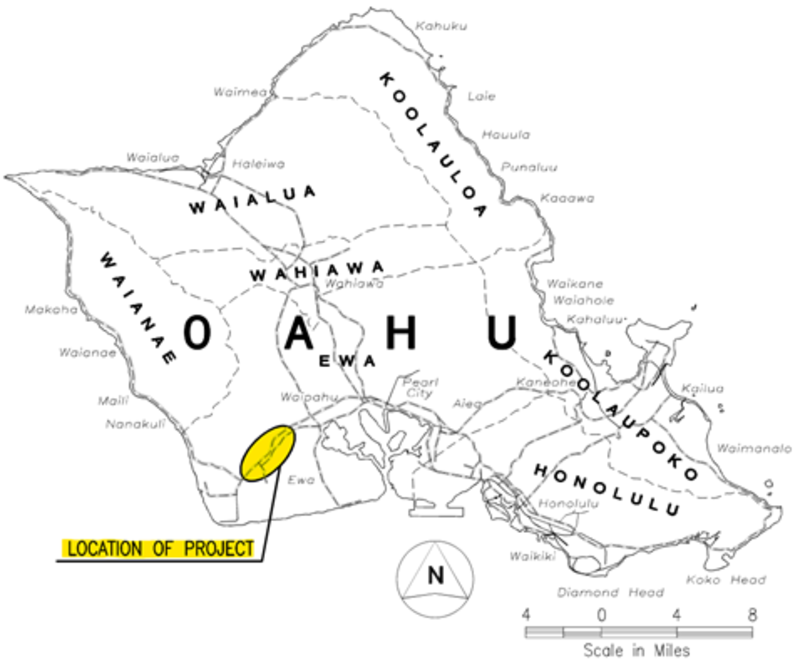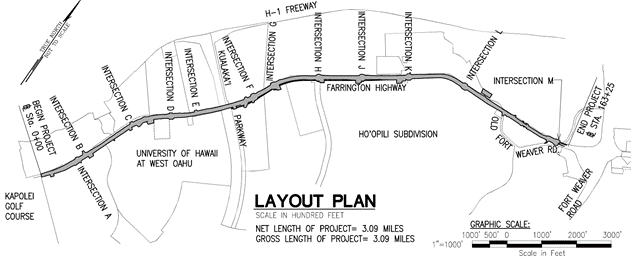 SCHEDULE
The work is scheduled to begin in May 2024 and last approximately 2 years, completing in April 2026. The work is scheduled to start from Kualaka'i Parkway and work east, one side at a time until complete. Work will then shift to the west of Kualaka'i Parkway. The goal is to maintain two lanes of traffic (one lane each way) for the Public throughout construction. Notifications, via this website, will notify the Public of any deviation from this goal.
Approximate schedule is below. Please use map below for reference.
Phase 1 (Makai-side, Kualaka'i Parkway to Old Fort Weaver Road) – May 2024 to Nov 2024
Phase 2 (Mauka-side, Kualaka'i Parkway to Old Fort Weaver Road) – Nov 2024 to April 2025
Phase 3 (Honouliuli Bridge, Both Sides) – May 2024 to Jan 2026
Phase 4 (Makai-side, Kapolei Golf Course Road to Kualaka'i Parkway) – Mar 2025 to Sept 2025
Phase 5 (Mauka-side, Kapolei Golf Course Road to Kualaka'i Parkway) – Sept 2025 to April 2026
POINTS OF CONTACT
| | |
| --- | --- |
| Contractor | Owner |
| Nan, Inc. | Hawaii Department of Transportation (HDOT) |
| Andrew Vernon | (808) 587-2160 |
| naninc.farringtonhighway@gmail.com | DOTPAO@hawaii.gov |
Link to previous post for Farrington Highway Widening Project